NOTICE OF CHANGE IN SCHEDULE 
Beginning Ash Wednesday, Wednesday, February 22nd, Adoration will continue from after the 8:30 a.m. Mass until 5:00 p.m.
Confessions will be scheduled for a full hour: from 5:30 to 6:30 p.m., followed by the evening Mass at 7:00 p.m.
Lenten Season Events 2023
All Fridays of Lent are days of abstinence. Catholics who are 14 years or older should abstain from meat entirely.  Soups and gravies made from meat are permitted.
Good Friday are days of fasting/abstinence. Catholics between the ages of 18 and 59 are permitted one full meal and two lesser meals per day (which together should not equal one full meal), with no eating between meals.
Small Group on Living the Eucharist every Wednesday after the 8:30 Mass in the Cultural Center during Lent
Stations of the Cross every Friday during Lent at 7:00pm
March 20th, and 27th – Christian Prayer Workshop with Fr. Eric, from 7:00pm to 8:15pm in the Church
March 22nd – Penitential Service at 7:00pm in the Church
March 24th – Fish Fry at 5:00pm in the Cultural Center
April 1st – Anointing Mass at 2:00pm in the Church
April 2nd – Palm Sunday
April 3rd, 4th, and 5th – Parish Mission at 7:00pm in the Church
April 7th – Live Stations at 7:00 in the Church
April 8th – Blessing of the Easter Food at 9:30am in the Church
April 8th – Easter Egg Hunt at 10:00am in the Pre-school Playground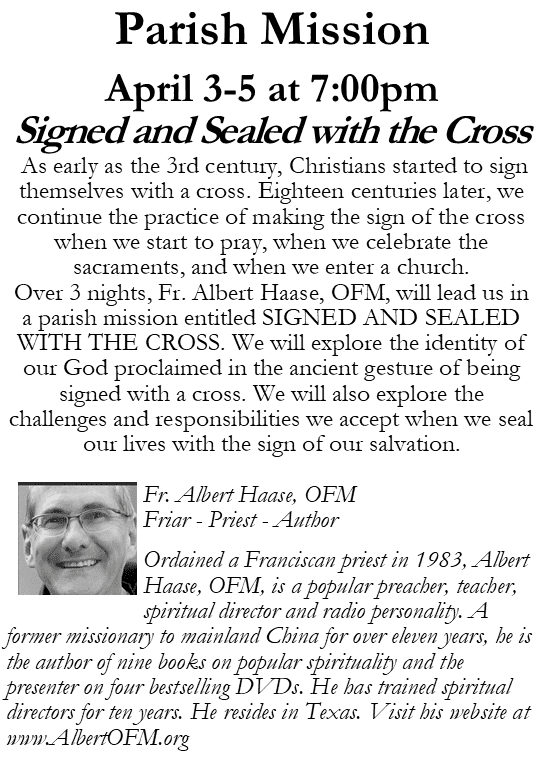 Holy Week Schedule
Holy Thursday
Mass of the Lord's Supper
at 7:00pm
 Good Friday
Liturgy of the Passion
at 3:00pm
 Holy Saturday
Easter Vigil at 8:30pm
 Easter Sunday
7:00am ~ 9:00am
11:30am ~ 5:00pm
SMALL GROUP BIBLE STUDIES BEGINNING IN LENT
Parish Small groups, Wednesdays after the 8:30 am daily Mass.  srlucyclynesdw@olsspvb.org.
The Lenten Season begins February 22nd and the study we have chosen is: Living the Eucharist: by Paulist Evangelization Ministries.   
The readings and reflections are from Cycle A and are meant to heighten parishioner involvement in the Sunday Eucharist, as well as help connect the celebration of the Eucharist more closely with the mission of Jesus Christ and the Church, and inspire all to live more intentionally as missionary disciples of Jesus during the week.
For additional Lenten Resources Click Here
Sun

26

Mon

27

Tue

28

Wed

1

Thu

2

Fri

3

Sat

4
Sun

5

Mon

6

Tue

7

Wed

8

Thu

9

Fri

10

Sat

11
Sun

12

Mon

13

Tue

14

Wed

15

Thu

16

Fri

17

Sat

18
Sun

19

Mon

20

Tue

21

Wed

22

Thu

23

Fri

24

Sat

25
Sun

26

Mon

27

Tue

28

Wed

29

Thu

30

Fri

31

Sat

1