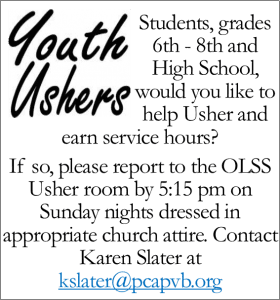 A Note from the Pastor
We are excited to announce that Rev. Matthew King will be coming to Our Lady Star of the Sea parish effective June 3rd.  Matt is being ordained to the priesthood by Bishop Felipe Estévez on Saturday, May 4th and will be joining Fr. Bastian Mathew as a parochial vicar.   Below you will see a brief biography for Fr. Matt. We are very excited for his arrival and look forward to him becoming part our family here at Our Lady Star of the Sea.
Sincerely yours in Christ,

Msgr Keith Brennan
Pastor
Biographical Information for Rev.  Matt King
Hello! My name is Rev.  Matt King and I have been a seminarian for the Diocese of St. Augustine since 2010. It is by Divine Providence that I am now in my final year of seminary studies at St. Vincent de Paul Regional Seminary and looking forward to priestly ordination in May of 2019. I am so grateful and blessed.

I am originally from the thriving metropolis that is Elkton, FL. In all seriousness it is a small farm town about 20 minutes southwest of St. Augustine. I grew up playing sports, picking on the guitar, riding four wheelers and making trails in the woods. The thought of a priestly vocation did not cross my mind until my senior year of high school when the Lord reached into my life in a powerful manner. A few months after feeling the call, I found myself as an 18-year-old freshman on the grounds of St. John Vianney College Seminary in Miami, FL.
The past 8 years had more joyful moments than I could have ever imagined. Of course, this is accompanied with a good dose of struggles and failings, but that is the nature of priestly formation. I can honestly say I cannot imagine myself doing anything else with my life.  There has been a great sense of gratitude on my heart lately for the people of our diocese that have been praying for vocations. I feel that my own vocation is an answer to their prayers. I have done nothing to earn the grace present in my life and I am certainly not worthy of this call. However, the people that have been praying for vocations for so many years are now seeing the fruits of their prayers. Thank you all for your constant, prayerful support. God bless you.
SAVE THE DATE
August 10, 2019
Father Hugh Gillespie, SMM
will be at Our Lady Star of the Sea Parish as part of the five week Diocesan-wide preparation for the 150th Anniversary of the Diocese of Saint Augustine.
Father Hugh is a member of the Montfort Missionaries and is the author of "Preparation for Total Consecration to Jesus Christ through Mary."  He will explain the Consecration to Jesus through Mary, and stress the emphasis on Jesus as the focus of the consecration.
Beginning with 8:30am mass, the Retreat will include lunch and conclude at 3pm. 
REGISTRATION REQUIRED: $5, to be paid in the Parish Office, includes the book and lunch.
Check the May/June issue of the St. Augustine Catholic (pages 22-23) for additional information.
Church Renovation Information
Welcome to the official launch of "Restoring the Past…Preserving the Future" and thank you for your generous support of our parish.  The inspiration of three great leaders, Monsignors Danaher, Logan and Brennan have led us to this point and their vision is only accomplished through the OLSS laity.