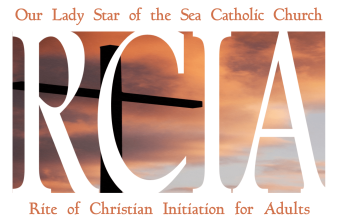 Rite of Christian Initiation of Adults
One of the greatest blessings a parish can have is the opportunity to welcome people who wish to learn more about the Catholic Church. These words by Victoria Tufano in Disciples Making Disciples: The Role of the Assembly in Christian Initiation speak mighty about our communal responsibility in welcome and hospitality, especially inviting others to look at the Catholic faith.
As a community of believers, we want to help anyone who is searching for a deeper meaning in their lives, and a community to call "home". The formal process of journeying with these inquirers is The Rite of Christian Initiation of Adults. Through a series of liturgical rites, formational and educational opportunities, these inquirers draw closer to the Lord amid a parish community.
Some inquirers will receive Baptism/Confirmation and Eucharist (catechumens) while others Baptized in Christian faiths will make a Profession of Faith and receive Eucharist.
Although the "formal process" involves clergy and RCIA Team members, the role of the parish is essential. Some roles include: praying for the inquirers and their families; presence at the various liturgical celebrations such at The Rite of Acceptance into the Order of Catechumens, The Rite of Sending Forth and The Rite of Election and the Easter Vigil.
Another important role is welcoming the inquirers and acknowledging them when they are in our midst. Small acts can be deeply meaningful! The way we live our lives, the witness we give in our living of the faith, can help with the practice of the faith visible. St. Francis of Assisi has said: preach the Gospel at all times. When necessary, use words. Our actions speak volumes.
Each one of us is encouraged to invite family members, friends, co-workers and neighbors to encourage those who are not practicing within a faith tradition to seriously consider inquiry about the Catholic Church.
Please contact Sr. Lucy Clynes, DW (904)285-2698 and arrange an appointment.