Monsignor Keith R. Brennan
Prior to his appointment as rector of the seminary, Msgr. Brennan served as chancellor of the Diocese of St. Augustine from 1992 to 2004 and pastor of Blessed Trinity Parish in Jacksonville from 2001 to 2004.
He also served as a parochial vicar at the Cathedral Basilica of St. Augustine (1988-1990) and St. Paul's Parish in Jacksonville Beach (1985-1988). Msgr. Brennan's most recent assignment was as Pastor at Holy Spirit Catholic Church in east Arlington from July 2012 until July 2013.
Effective July 1, 2013, he was appointed as Pastor of Our Lady Star of the Sea in Ponte Vedra Beach, Florida.
Fr. Bastian Mathew, CMI was born in 1977 in Kerala , India.  He  was professed as Carmelites Mary Immaculate – St. Joseph's Province and Ordained on January 3, 2007.
He graduated from Christ University Bangalore, India. He holds a Bachelor's degree in Education, a Master's degree in physics and also a licentiate in physics. 
The last seven years he worked as an administrator and teacher of a public school owned by his congregation.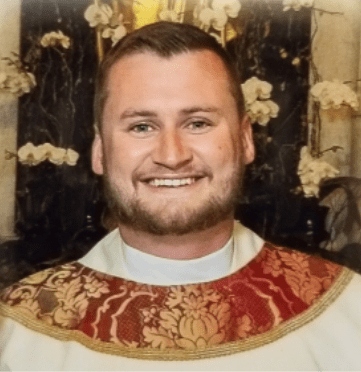 Fr. Matt King is a ordained priest or the Diocese of St. Augustine.  He graduated from St. Vincent de Paul Regional Seminary.
After high school graduation, Fr. Matt entered the seminary in 2010.  He grew up in Elkton, FL and is the oldest of five children.  His Family continues to reside in St. Augustine and Jacksonville area. 
When time allows, Fr. Matt enjoys golfing, fishing and picking on his guitar.  He is a faithful fan of the Jacksonville Jaguars and Florida State Seminoles. 
After spending 9 years in seminary, Fr. Matt is beyond grateful for the opportunity to exercise ministry within a parish setting.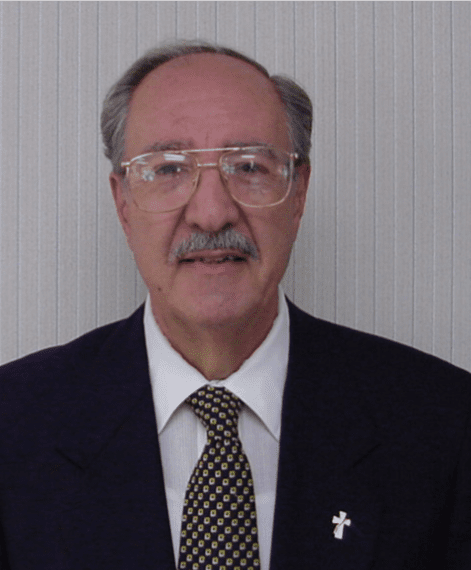 Anthony Marini was born in the Province of L'Aquila in Central Italy on November 13, 1930, son of Anna and Claudio Marini. On June 10, 1937, he and his mother arrived in New York City where they were met by his father. He grew up in Brooklyn, New York and attended public elementary and high schools. He was accepted at Fordham College and graduated in 1952 with a Bachelor of Science degree in Mathematics. In 1954, he graduated with an MBA degree in Statistics from New York University. Following graduation he was employed by Western Electric Co. and American Can Co. in Manhattan, and also taught Statistics at Pace College in the evening as Adjunct Associate Professor. On July 14, 1956, he married Maria Patrizio, a long-time friend from Staten Island, New York. They have two children and seven grandchildren. In 1965 he accepted a position with the Xerox Corp. in Rochester, New York. The couple became active in the Cursillo Movement and in 1969, Bishop Joseph L. Hogan appointed him as Diocesan Lay Director. In 1978 he was accepted into the Rochester Diocese's first class of deacon candidates and on April 17, 1982, he was ordained a Permanent Deacon by Bishop Matthew H. Clark. He participated in the Xerox Executive Leave Program in 1979 and worked to establish a non-profit corporation giving loans to minority businessmen through Small Business Administration. From 1980 through 1984 he was the Eastern Regional Manager for the company's Employee Assistance Program (EAP). In late 1984 the deacon transferred to the Tampa Branch as Administrative Manager and then took early retirement in 1987 to pursue his deaconate ministry full time. He served at Incarnation Parish in Tampa and at St. Anne Parish in Ruskin, FL as Migrant Minister to the Hispanic population. He and Maria moved to Sun City Center, near Ruskin where the deacon also assisted at Prince of Peace Church. Beginning in 1992, he also worked in Western North Carolina, most recently in Hendersonville, during the summer months, ministering to the needs of the Hispanic community in the Immaculate Conception Parish. In 1997, he and his wife moved to Ponte Vedra Beach, FL and joined Our Lady Star of the Sea Parish.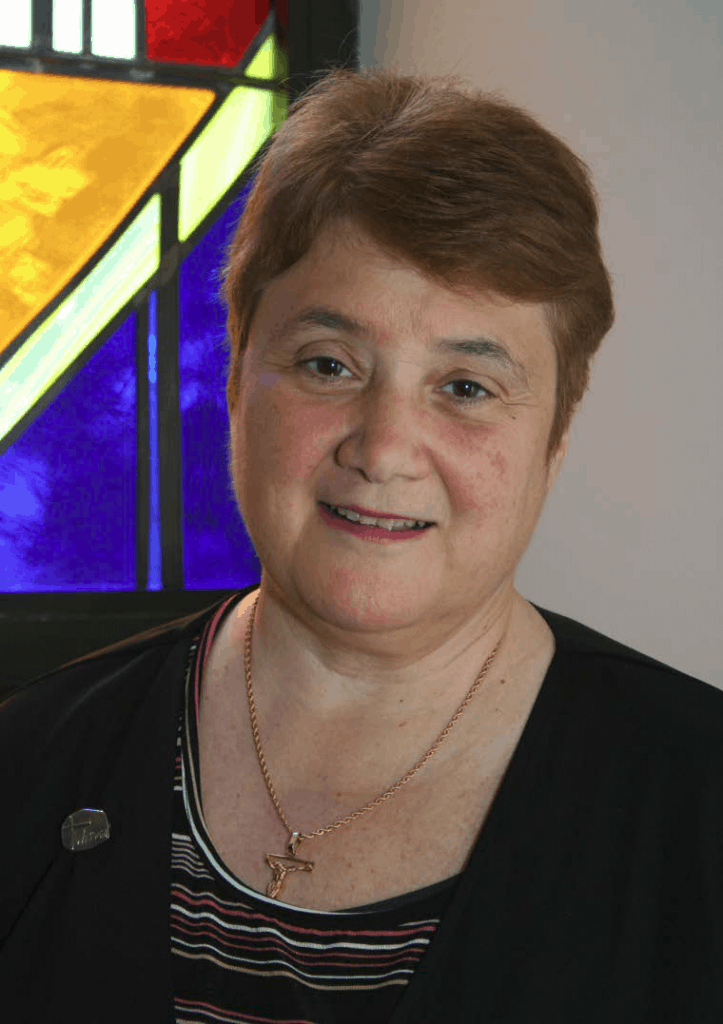 Sr. Lucille (Lucy) Clynes, Sr. Cecelia Marie, born in Brooklyn, NY was a member of Holy Child of Jesus Parish in Richmond Hill, Queens, NY and graduated from Our Lady Of Wisdom Academy in 1965. She entered the Novitiate in 1965 and went on to earn a BA in Social Studies and a BS in education from Marillac College, St. Louis, Missouri (71) and a master's degree in administration and leadership development from Catholic University of America, Washington, DC (80). She also studied theology at St. Louis University and Catholic University of America.
Sr. Lucy began her ministry in education in Connecticut as a social studies and religion teacher in Waterbury Catholic High School(1971-75), and then as Assistant Dean of Discipline at Holy Cross High School. She returned to New York in 1977 to become Assistant Principal, and later principal at St. Mary Gate of Heaven School, Ozone Park, NY until 1984.
For the next 23 years, she served as the Diocesan Director of Christian Formation for the Diocese of St. Augustine, Florida. During this time she also served on four Provincial Leadership Teams serving terms as a council member and Vicar of the congregation. In 2007 she served as Canonical Treasurer for the Province, and was Vocation Director from 2005 until 2014.
She returned to Florida in 2014 to resume work in the Diocese of St. Augustine, Florida and currently serves in Our Lady Star of the Sea Parish, Ponte Vedra, Florida as a Pastoral Minister.
Dr. Alexander J. Groppe, D. Min., MA.Th.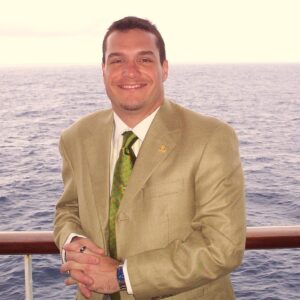 Hailing from Monmouth/Ocean counties in New Jersey, Dr. Alexander (Alex) Joseph Groppe is recently established on the East Coast of Florida, coming to us by way of the Gulf Coast where, for the past 35 years, he has dedicated his professional life to parish ministry in the roles of director of liturgy & music, faith formation & education and art & environment.
Dr. Groppe is a nationally recognized educator (1993 Sallie Mae First Class Teacher of the Year, State of Florida), possessing a Bachelor of Arts in History, Gifted Education, and Secondary Education from St. Leo College (1993), a Master of Arts in Theology from St. Leo University (2012), and a Doctorate in Ministry with a concentration in Creative Arts from Graduate Theological Foundation (2019). For nearly thirty years, he has taught and facilitated all age groups of pilgrims on the journey – from primary age children to senior citizens.
As a musician, Dr. Groppe plays organ, trumpet, flugelhorn, baritone horn, euphonium, & valve trombone and is a vocalist in the tenor to baritone range. He has both arranged and composed music for organ, choir, brass, string & wind ensembles, hand bells and hand chimes.
Dr. Groppe is also an accomplished professional visual artist, having studied under international artist Paul Foropoulos in drawing and oil painting (religious/photo-realism/biomorphic abstractionism). He is also a mixed media sculptor working in glass, stone, ceramic, and polymers.
For fun, Alex enjoys travel, gourmet cooking, gemology, Egyptology, natural perfumery, ocean liner history, and listening to music across genres! He's also a budding boater, so if you see him on the water, "heave to!"
Phone: 904-567-1960
Email: dre@olsspvb.org
Chris & Jim Goodell have been parishioners and church musicians at OLSS since 1999. They truly believe in sharing their musical talents at church as a sincere form of thanking the Lord for their gifts. Chris has played piano and sung for churches up and down the eastern seaboard for over 30 years. She has sung with the Jacksonville Symphony Chorus for over 5 years. Jim has performed as an actor/vocalist for over 30 years studying at Shenandoah Conservatory of Music in Winchester, VA and privately with vocal coaches in New York and Jacksonville.
Outside of OLSS, Chris & Jim are founding principals of Goodell Group, Inc., a professional development and executive coaching practice dedicated to maximizing results through the Human Resource asset. They are both certified performance coaches. Through Goodell Group, Chris & Jim also participate in a national youth leadership/mentoring program called: America's Rising Stars.