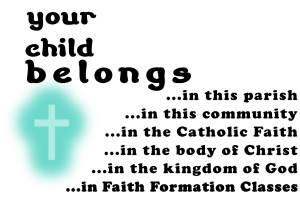 Karen Pabian, Director of Faith Formation
(904) 567-1960 dre@olsspvb.org
Kim Voutour, Assistant
kvoutour@olsspvb.org

Our Lady Star of the Sea Parish offers Faith Formation for students in grades K-8 who are not currently attending a Catholic School. Registration Forms are available in the Religious Education Office, or may be downloaded (see below). All students must be newly registered each year.
Program Needs: We are always in need of new teachers, classroom aides, substitute teachers and volunteers to help with drop off and pick up.
IMPORTANT – PLEASE READ!
To register a new family for Children's Faith Formation please click on the following links, print out all of the forms and return with payment to the Religious Education Office. Parents you are required to discuss the Code of Conduct with your children and then all of the children being registered and at least one parent must sign the Acknowledgement Form for the Code of Conduct and return that form with all of the other paperwork.
Incomplete paperwork is not processed until it has been completed.
Please fill out all forms completely and neatly and return them to the Children's Faith Formation Office located in the Browning Center (Building B).